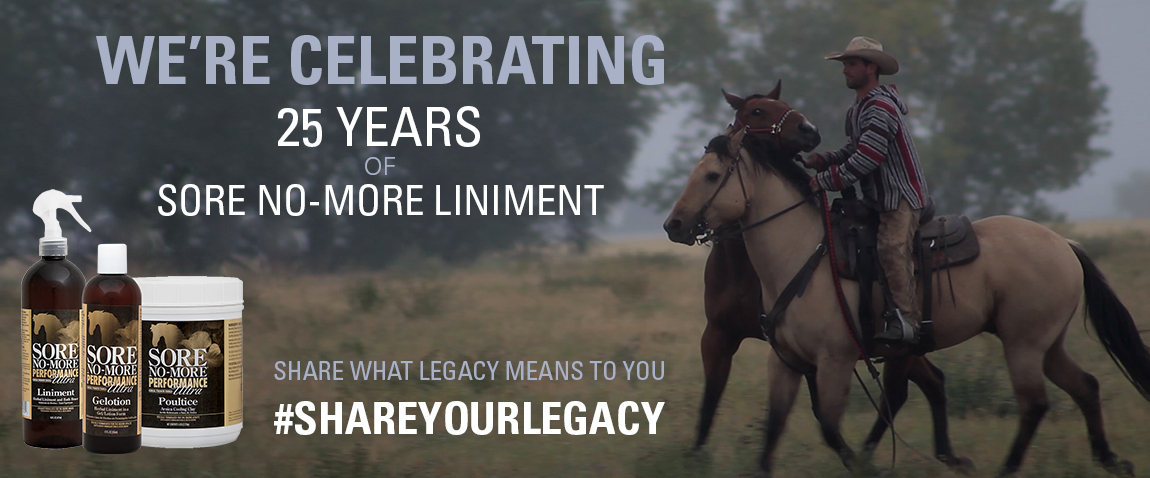 This year, Sore No-More celebrates 25 years of helping horse lovers achieve their dreams.
Help us celebrate the first liniment of its kind.
Share what legacy means to you: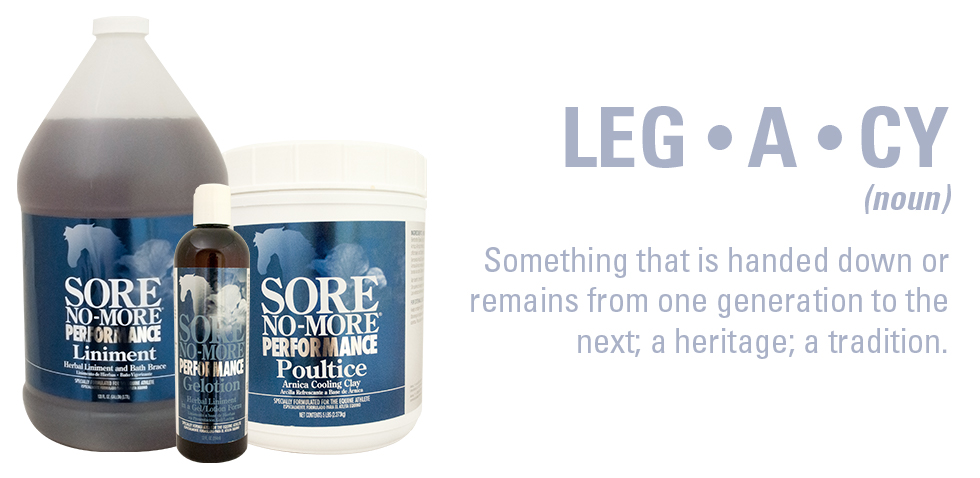 Our Arenus Ambassadors share what LEGACY means to them...
CIMMARON GERKE
Professional Rodeo Cowboy, Trainer
Cimmaron Gerke is a professional rodeo cowboy who has qualified and ridden at the NFR in bareback bronc over six times. From Brighton, Colorado, Cimmaron built a career around starting colts and hard-to-train horses. Today, he spends his days starting young horses, rope horses and race horses. For Cimmaron, legacy means building a name for himself as a professional horseman and trainer. Learn more about Cimmaron here: Facebook Page
HOLLY TRACY-CURE
Equestrian Instructor, NRHA & AQHA Professional
Holly Tracy-Cure is an equestrian instructor, leading rookie professional in the RMRHA region and past president of the RMRHA. Growing up on a ranch led to Holly's early start in riding. Today, Holly is the owner of Holly Tracy Reining Horses located in Longmont, Colorado and head coach of the CU Equestrian Team. Her legacy, she feels, is to pass down her knowledge and love for horses to her students. Learn more about Holly here: www.tracyreininghorses.com
STEPHANIE PETERSON
Equestrian Instructor, Professional Show Jumper
Stephanie Peterson is an equestrian instructor and professional show jumper who has won numerous year-end championships, including the CHJA Medal Finals championship. Located in Fort Collins, Colorado, Stephanie teaches equestrian students and prepares for competitive events at Paradise Found Farm. Stephanie feels her legacy is to seek the very best out of her students and herself each day. Learn more about Stephanie here: www.paradisefoundfarm.com
We've got the liniment you need to build your LEGACY...